In a scenario where the share of green energy increases to 50-60 percent, the demand for some raw materials will increase even tenfold, are we ready to destroy the environment and extract raw materials in Europe? China or India are ready for it, but for how long and will they want to trade with us? We talk to Velina Tchakarova, an expert in the field of geopolitics, head of the consulting company FACE, about how geopolitics shapes the energy sector.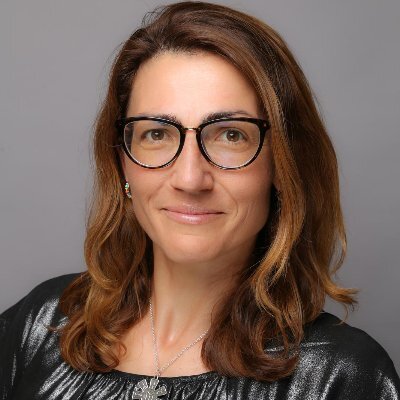 Velina Tchakarova. Author's photo.
BiznesAlert.pl: The impact of geopolitics on gas energy is discussed in length and breadth. We rarely analyze nuclear energy from this angle. How do geopolitics events affect the industry?
Velina Tchakarova: They influence, and in this context we will also talk about Russia. A large part of European countries that have nuclear power plants built them with the help of Russia, so these units are based on Russian technology. We can imagine a scenario in which Russia stops providing them with unique equipment or technical support. The question of how this can be replaced by Western technology – American or French – is a question of cost.
Another important issue is the issue of divisions. In Europe, we have no consensus on whether nuclear energy is "green" energy, whether it should be part of the energy mix, or whether it is the fuel of the future. France believes so; Germany and Austria are absolutely opposite. This is where Russia and China can reach out to influence groups or social groups and use the openness of our culture of politics and public debate to fuel dissatisfaction with certain issues in different countries.
How can this develop?
It's impossible to predict. As of today, we have reached a compromise on this issue because the European Commission has defined enriched nuclear fuel as a transformation fuel alongside gas and LNG. But for how long?
So we have a conflict, so Russia is the winner?
or won? Russia simply has potential here: it has found a niche that it can turn to its advantage. Discussions on this subject have been going on for decades and it will be difficult to change positions, especially since this discussion does not stop at the energy sector, but also extends to the military, i.e. the use of nuclear weapons. The most important players in the "nuclear market" have absolutely zero intention to stop using nuclear energy. There is no discussion about the control of nuclear arsenals at all, because there is a war going on now – so there is a void that external players can use to achieve their goals.
It's like a Paris-Berlin conflict…
Yes, especially since Britain will not provide us with military security since Brexit and France has become the only country that can guarantee us nuclear energy for military use. In addition to the use of nuclear energy in the energy sector, France is a permanent member of the United Nations Security Council and a guarantor of security in Europe. These two issues cannot be separated.
I understand we need to be aware of this, but can we do something about it?
My message is that it is good that we managed to reach a compromise, but we must be ready for the next wave of divisions in Europe and be aware that we will have to face it in a moment. This is a really deep division and a big problem. Countries that refrain from using nuclear energy on their territory will have to accept that their neighbors will rely on this fuel forever.
We found ourselves in a situation where we had to change the directions from which we buy gas. We talk loudly about breaking with the asymmetric relationship with Russia, but I have the impression that this is the moment when we can easily enter another addictive relationship.
I agree. This is of course not the case with all 27 countries – some have taken to diversification, just look at LNG terminals. But if you wait for the crisis to catch up with you and don't prepare for different scenarios by diversifying suppliers, then reality will overwhelm you, because in the short term there is no way to diversify.
For what reason?
Most LNG contracts are long-term contracts. In this case, you don't go to the biggest exporters and say "hi, I need gas, you deliver it to my house today", because this gas is contracted. If such a situation were to take place, it would mean that long-term contractors would not receive gas in accordance with the contract. In the name of what?
So in the short term it is very, very unlikely to diversify gas supplies. Let's take my country, Austria. Austria visited all gas suppliers and basically came back empty-handed. Scale is also important here: most European Union countries are small. The solution would be to give the European Commission a mandate for joint negotiations, as was the case, for example, with Covid-19 vaccines. Another issue is geography: you can't get gas from anywhere. Austria has a great relationship with Australia, but in this case they are useless. On top of all this, there is politics: not all suppliers will want to talk to you, because in the case of gas there must also be a political green light. Only thanks to our political relations with the United States, we were able to maintain the stability of supplies in Europe.
In this way, we "forced" them to buy gas from Russia or China…
Exactly. There are still many tough choices ahead of us in this regard.
Does that mean everything is yet to come?
Yes, in the short term we should assume extreme scenarios. I don't buy that just because we lowered the demand and somehow survived the winter, the crisis is over. What will be the unforeseen consequences of reducing demand for business, industry or the social security system? We do not know that yet, especially since some warn that we will have to reduce demand by as much as 20-28 percent. It's 1/3 after all.
Added to this is the transformation of the energy sector, which is not cheap. The way of communicating that now renewable energy is cheap is not entirely honest. Yes, it's cheap because we've invested a lot in it before. Just think of the Energiewende, which cost over €600 billion and Germany has not made much progress at all. The governments and institutions of the European Union are investing huge amounts of money in the energy transition, and since we have already invested so much and have not achieved much, we must be prepared that it will cost much, much more to achieve our goals.
What are the geopolitical consequences of this?
It is also important that we are changing the supplier of energy carriers from Russia to a much more complicated player, which is China. In a scenario where the share of green energy increases to 50-60 percent par excellence, the share of raw materials we will need increases significantly. In some cases, up to ten times. Where will we take them from? This is the most important question. Are we ready to start extracting and processing raw materials in Europe again? Because it destroys the environment. Are our society, our environmental activists ready for this?
Currently, China or India are ready to destroy their environment to sell us their raw materials. The question is how long. Let us remember that the fact that we need raw materials and are able to pay is not everything – there are more like us. Why would Russia or China allow us to trade with countries in Africa that they influence when stopping trade could hurt us?
Maryjka Szurowska spoke
Quelle: https://biznesalert.pl/velina-rosja-chiny-energetyka-geopolityka-transformacja-energetyczna/
Translated via Google Translator